The Couple to Couple League of Northwest Indiana is pleased to offer Natural Family Planning lessons to engaged and married couples.
Novena for
Chastity & Purity
Join the Couple to Couple League in praying a novena for chastity and purity in the world. We will begin on July 18th in preparation for the USCCB's NFP Awareness Week.
NFP Awareness Week 2018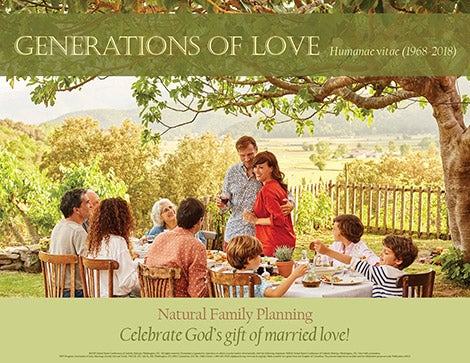 NFP Awarness Week is a national educational campaign of the United States Conference of Catholic Bishops (USCCB) to celebrate God's design for married love and the gift of life and to raise awareness of Natural Family Planning (NFP) methods. "NFP," as the U.S. bishops have written, is supportive of Catholic beliefs about married love because it "respects the God-given power to love a new human life into being" (see, U.S. Bishops, Married Love and the Gift of Life).
The dates of Natural Family Planning Awareness Week (July 22–28, 2018) highlight the 50th anniversary of the papal encyclical Humanae Vitae (July 25) which articulates Catholic beliefs about human sexuality, conjugal love and responsible parenthood. The dates also mark the feast of Saints Joachim and Anne (July 26), the parents of the Blessed Mother.
Meet Us
We are regularly teaching classes as part of the Diocese of Gary Marriage Preparation program. Please use the link at left to search for upcoming classes.
Or contact us anytime!
What is NFP?
At its core, Natural Family Planning (NFP) is really learning about this language of the sexual powers by observing, recording and interpreting the bodily signs of human fertility. In other words, NFP is fertility awareness, the knowledge of a couple's fertility, and is a means of reading the body's signs of fertility and infertility. Applying this knowledge through the Sympto-Thermal Method (STM) of NFP, which CCL teaches, is over 99% effective in postponing pregnancy.
CCL has a three-fold approach to teaching NFP:
The Sympto-Thermal Method of NFP.
The moral underpinnings for the NFP decision.
The promotion of exclusive and continued breastfeeding and its effect on fertility.
CCL's YouTube Channel
The best way to learn more about what Natural Family Planning can do for a marriage is to hear the stories of couples who use it. At our last convention, we invited three couples to sit down and talk about the impact NFP has made on their relationships. Check out these videos, and then share them with others!